Hurricane Laura Resource Guide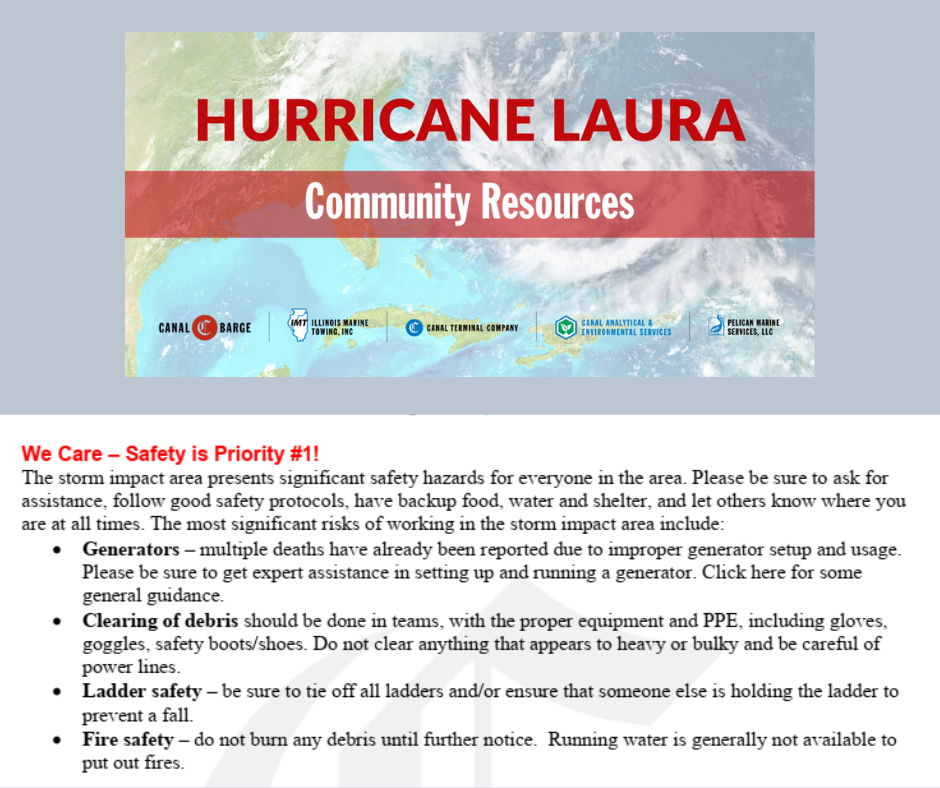 As Hurricane season continues, CBC strives to provide you with any and all resources that we know about. Please find a resource guide by state/region below to assist you and your families during this time. This resource guide can also be found on the CBC Portal.
Stay S.A.F.E.!
Louisiana
***A BURN BAN is in effect for the areas impacted by Hurricane Laura due to lack of water pressure. Click here for FEMA guidance on separating debris for future pickup.***
Waste Management residential collection service resumes in Sulphur, Westlake, Vinton, Moss Bluff, Iowa, Dequincy and unincorporated Calcasieu Parish has resumed with regularly scheduled routes. Collection is limited to cart content only. Residents who lost trash containers in the storm may call Waste Management to get a replacement at 337-436-7229.
Get texts from the Louisiana's Governor's office by texting LAGOV to 67283
For information on road closures, please visit 511la.org.
Specifically in Calcasieu Parish, a full list of roads partially or fully blocked can be found here: https://www.kplctv.com/2020/08/27/cpso-announces-impassable-roads/
Office of Homeland Security & Emergency Preparedness – https://gohsep.la.gov/
Resources include:
FEMA

Crisis Counseling Assistance and Training Program

Disaster Unemployment Assistance (DUA)
Department of Children and Family Services
Local resources vary and up-to-date information is available via http://www.dss.state.la.us/
Disaster Supplemental Nutrition Assistance Program (DSNAP)
FEMA
In Southwest Louisiana – residents of Allen, Beauregard, Calcasieu, Cameron and Jefferson Davis parishes, are eligible for reimbursement for eligible emergency protective measures (Category B). These parishes were previously limited to direct federal assistance, and reimbursement for mass care including evacuation and shelter support.
Click here for resources and information >> https://www.fema.gov/disasters/hurricane-laura
Allen, Beauregard, Calcasieu, Cameron, Jeff Davis & Vernon eligible for #OperationBlueroof: Operation Blue Roof is a free service by USACE for FEMA. To apply, call 1-888-ROOF-BLU or visit: www.usace.army.mil/blueroof//
*NEW* FEMA has opened a drive-thru document drop-off site for residents at the Calcasieu Parish School Board office 3310 Broad St. It will be open seven days a week, 7am-5pm.
*NEW* FEMA has set up a Mobile Registration Intake Center at the Large Blue Pavilion in the Iowa City Park 8am to 5pm. The purpose is to answer questions, register applicants, etc. anything that our citizens need related to disaster assistance.
COVID-19 Testing
Free testing at Gulfway Shopping Center at 115 W. McNeese Street from 8 a.m. until 6 p.m. Tetanus and Hepatitis-A shots will begin Wednesday, Sept. 2, from 9 a.m. to 3 p.m.
Another COVID-19 testing site is now open at All-Star Buick on Napoleon Street in Sulphur. Testing will be from 8 a.m. to 6 p.m.
Free Food, Water, and Supplies Distribution Lake Charles
Salvation Army is offering free meals in the parking lot of Jason's Deli at 3527 Ryan Street in Lake Charles every day from dawn until dusk.
Mercy Chefs, a Virginia-based disaster relief and humanitarian aid organization, serving lunch daily from 11 – 1 and dinner from 4 – 6 at Life United Church, 1800 East College St.

Meals being given out at Walmart on Hwy. 14 in Lake Charles.

The National Guard will be distributing food, water, ice and tarps to residents at 8
*NEW* The National Guard will be distributing food, water, ice (if available; supply is limited) and tarps to residents from 8 a.m.- 6 p.m. at the following locations:
Lake Charles Civic Center
McMurry Park
Vinton Elementary School
Iowa Middle School
Walmart Neighborhood Market in Moss Bluff
DeQuincy Railroad Museum
Westwood Elementary School in Westlake
Washington-Marion High School in Lake Charles
Tarps will be distributed by the National Guard at the Lake Charles Civic Center, starting at 8 a.m. on Sunday, August 30.
Sulphur
The National Guard will be set up to distribute MREs, water, and ice at McMurry Park (300 S Hazel St, Sulphur, LA 70663) for Sulphur Residents. Please enter through the North entrance to drive through and exit at the south entrance
Red Cross (see below)
Beauregard Parish
DeRidder is offering free food & water distribution at the corner of Planer Mill and Bilbo starting at 8 a.m. Friday, Aug. 28, 2020.
Food, water, ice and tarps to be distributed starting at 9 a.m. Monday, Aug. 31 at the following locations:

City of DeRidder fire training site, corner of Planer Mill Road/Bilbo Street

Merryville High School, 7061 La. 110, Merryville

East Beauregard High School, 5364 La. 113, DeRidder

South Beauregard High School,151 Longville Church Road, Longville

Singer High School, 153 La. 110, Singer
Other
Hot meals at noon at The Church in Rosepine.
Hot meal served tomorrow at Vinton Middle School from 12 pm until they run out of meals.
Moss Bluff Pentecostal Church on 999 Sam Houston Jones Pkwy. will be making 1,500 free hot meals today. They will also have water, tarps, and other supplies.
The Grand Lake Firemen's Center and Hackberry Community Center have MREs, bottled water, and ice available.
Water, cleaning supplies and other items (which were donated) at the Johnson Bayou fire station starting Monday, Aug. 31, from 9 am to 6 pm.
Supply distribution at the Lake Arthur Police Department (water, ice, tarps and MRE's) resumes at 1 p.m. Monday, August 31. Drive to the south end of Arthur Avenue and turn on the side of the police department.
Red Cross operating feeding and supply sites. Meals available at lunch time and 5 p.m. Supplies available from noon to 3 p.m.: clean-up kits, tarps, flashlights, gloves, masks, shovels, rakes, hand sanitizer and trash bags.
Lake Charles Civic Center
McMurry Park in Sulphur
Park Terrace Shopping Center in DeRidder
South Beauregard Elementary
Allen August Multipurpose Center and Annex (starting Monday)
Operation BBQ Relief www.obr.org is providing hot BBQ meals to organizations, churches, and goups. All meals orders need to be in increments of 50 and must be placed by 5 p.m. the previous day. Call 386-222-2756.
Calcasieu Parish 24/7 Call Center
Calcasieu Parish Sheriff's Office has opened their 24/7 call center for non-emergency hurricane issues.
Call (337) 431-8068 or (337) 491-3685.
For emergencies, residents should call 911.
Utilities Information
There are widespread outages in the impact area in southwest Louisiana. Utility companies are conducting assessments but be prepared for several weeks of outages. Track Entergy status here: Entergy Outage Map
Click here for the latest on Entergy's restoration plan
Jeff Davis Electric Coop launches power assessment – click here for more info Beauregard Electric Outage Map
Water and Boil Advisories
The Louisiana Department of Health is monitoring water systems affected by Hurricane Laura and will be posting any inoperable water systems due to the storm
here: https://ldh.la.gov/index.cfm/page/963. Please check back periodically for future updates.
Lake Charles Water Division is under a systemwide precautionary boil water advisory. City officials say the advisory is being issued as a precaution and will continue until further notice. The City of Lake Charles will notify the public once the boil advisory has been rescinded.
It is recommended that all consumers disinfect their water before consuming it, including making ice, brushing teeth, using it for food preparation or rinsing foods by boiling the water for one full minute in a clean container. The recommended one- minute starts after the water has been brought to a rolling boil. The advisory does not affect showering or bathing.
Carlyss says its plant in waterworks district 9 is up and running. It asks any residents that might have leaks in their homes to turn off their water so the plant can build up pressure. They ask anyone with a damaged home to turn off their meter and remind everyone that the town is still under a boil advisory until further notice. Anyone in Carlyss that does not have water is asked to call 337-583-2777 to report it.
Sulphur reports that its water plant is running but will experience periodic outages or trickles. Recommend boiling all water until further notice (see guidance above).
CURFEWS
Calcasieu Parish: Beginning Wednesday, 7 p.m. until 6 a.m.
Beauregard Parish: Dusk till dawn curfew in effect
Jeff Davis Parish: Beginning Thursday, Sunset to sunrise.
Merryville: Beginning Wednesday, 6 p.m. to 6 a.m.
Vernon Parish: All of Vernon Parish from 10 p.m. until the Chief and Sheriff advise it is safe to travel.
SCHOOLS
Calcasieu, Allen, and Cameron Parish schools are closed until further notice.
POST OFFICE ALTERNATE SITES
Delivery mail service in the areas affected by Hurricane Laura has been suspended until further notice. See below for alternate post office locations where mail can be picked up:
Temporarily closed: Lake Charles Drew Station, 5000 Lake St.

Alternate location: Lake Charles Main Post Office 921 Moss St., Mon-Fri 8 a.m. to 5 p.m. and Sat 8 a.m. to 12 p.m.

Temporarily closed: Avery Island Post Office, 100 Main Rd.

Alternate location: Abbeville Post Office, 1421 Veterans Memorial Drive, Mon- Fri 8:30 a.m to 4:30 p.m. and Sat 9 a.m. to 12 p.m.

Temporarily closed: Westlake Post Office, 1504 Guillory St.

Alternate location: Sulphur Post Office, 800 S. Port Oak Rd., Mon-Fri 8:30 a.m. to 4:30 p.m. and Sat 10 a.m. to 12 p.m.

Temporarily closed: Otis Post Office, 2951 HWY 121

Alternate location: Boyce Post Office, 95 Pacific Ave., Mon-Fri 8:30 a.m. to 12 p.m., 1 p.m. to 4 p.m. and Sat 8:30a.m. to 10:30 a.m.

Temporarily closed: Fort Polk Post Ofifce, 6180 University Pkwy.

Alternate location: Leesville Post Office, 303 S, 3rd St., Mon-Fri 8:30 a.m. to 4:30 p.m. and Sat 9 a.m. to 12 p.m.
• Sulphur – Mail can be picked up at the Sulphur Post Office at 800 S. Post Oak Rd.
• Westlake – Westlake residents can pick up their mail at the Sulphur Post Office on 800 S. Post Oak Rd.
SBA Disaster Loans
The U.S. Small Business Administration is offering low-interest disaster loans to non-farm businesses, private nonprofits, homeowners and renters. Loans are available to those that suffered losses due to Hurricane Laura in Allen Parish, Beauregard Parish, Calcasieu Parish, Cameron Parish and Jefferson Davis Parish.
There are a few type of loans available:
Individuals and Families
Homeowners: Up to $200,000 to repair or replace real estate damage and up to
$40,000 to replace personal property.
Renters: Up to $40,000 to repair or replace personal property.
Businesses Property Damage: Up to $2,000,000 to repair or replace real estate, machinery and equipment, inventory and other assets that were damaged or destroyed (available to businesses of any size and private nonprofit organizations).
Economic Injury: Only for small businesses and most private nonprofit organizations suffering adverse financial impacts of the disaster (with or without property loss), up to $2,000,000 for working capital to help pay obligations until normal operations resume.
Individuals can apply for loans at https://disasterloanassistance.sba.gov. For additional assistance, the SBA has established a Virtual Disaster Loan Outreach Center that is open Monday – Sunday, 8
a.m. to 8 p.m. EDT. They can be contacted via email: FOCWAssistance@sba.gov or by phone at 800-659-2955.

Texas
Texas counties under the disaster declaration: Aransas, Bexar, Brazoria, Calhoun, Cameron, Camp, Chambers, Ellis, Galveston, Hardin, Harris, Jackson, Jasper, Jefferson, Kenedy, Kleberg, Liberty, Matagorda, Newton, Nueces, Orange, Refugio, San Patricio, Tarrant, Victoria and Willacy.
General statewide resources TBA
NOTE: 8/27/20 – Austin Convention Center announced they will provide shelter and partner with other organizations throughout the city to provide relief effort.
Electricity
Entergy announces that power has been restored for most Houston-area residents. They are still working on evaluation and restoration of power in the southeast corner of the state, including the following count of customers with outages:
Entergy recommends that everyone in southeast Texas, including the Houston and Galveston areas, to conserve electricity to assist with maintaining service to affected areas.
Evacuees
The City of Port Arthur recommends that people who are evacuated stay where they are until at least Saturday but continue to monitor conditions and recommendations from the city.
Medical/General Assistance – American Red Cross locations
2218 Pershing Drive Austin, TX, 78723 Phone: 512-928-4271
4244 Boonville Road Bryan, TX 77802 Phone: (979) 776-8279
9205 Oak Creek Woodway, TX 76712 Phone: (254) 523-4985
9601 Wright Drive P.O. Box 60310 Midland, TX 79711
Phone: (432) 563-2267
333 Earl Garrett Street, Kerrville, TX 78028 Phone: (830) 257-4677
Hours: Monday – Friday 8:00 a.m. – 5:00 p.m.
3642 East Houston Street San Antonio, TX 78219 Phone: (210) 224-5151
4639 Corona Drive, Suite 101 Corpus Christi, TX 78411 Phone: 1-361-887-9991
6914 West Expressway 83 Harlingen, TX 78552 Phone: 1-956-423-0523
2700 Southwest Freeway Houston, TX 77098 Phone: 1-713-526-8300 Hours: 7:30 am to 5:30 pm Monday-Friday
Orange, TX 77630 Phone: 1-409-883-2322
2055 Kendall Drive Dallas, TX 75235 Phone: (214) 678-4800
1504 Mineral Wells Hwy A Weatherford, TX 76086
6000 Western Place, Suite 100 Fort Worth, TX 76107 Phone: (817) 335-9137
1117 Gallagher, Suite 340 Sherman, TX 75090 Phone: (903) 465-1330
Additional Texas resources available by region at unitedwaysatx.org and unitedwayhouston.org.
Arkansas
Arkansas Red Cross
*NEW* The state of Arkansas was issued a Disaster Declaration August 27, 2020. It is currently still under effect. Additional disaster related resources if available from FEMA will be posted here.
Arkansas Red Cross – The following relief can be found here.